DOF Milling Machine SHARP2-5X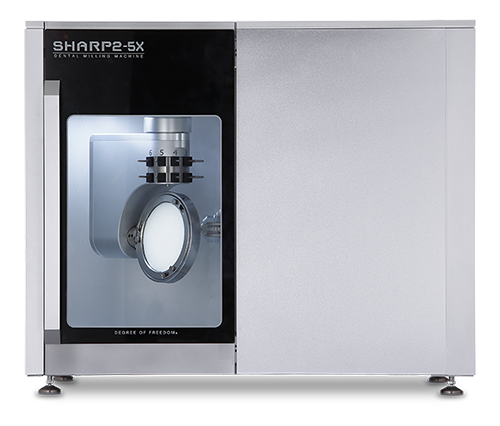 • Axis : 5 axis
• Milling Material : Zirconia, PEEK, composite resin, PMMA, glass ceramic
• Loadable Workpiece : R 98 stepped
• Spindle Speed : Up to 60,000rmp
• Number of Tools Housed : 12
• Required Compressed Air : 6.0MPa
• Interface : USB 2.0
• Power Requirements : 90-132V(AC) / 180-264V(AC), 50-60HZ
• Power Consumption : 480Watt
• Additional Jig Holders : 3 types available
• External Dimensions : 590(W) x 450(H) x 485(D) mm
• Weight : 60kg
• Tools : Diamond coated – 0.6 / 1.0 / 2.0 (optional)
5-axis Simultaneous Processing
It features 5-axis simultaneous machining, milling on X, Y, Z axis and rotating blocks and discs 360 degrees in both clockwise and counterclockwise movements.
Sturdy and Low-Vibration Frames
Regardless its compact size, the internal structure of steel components delivers an optimal milling speed and durability.
12 Station Automatic Tool Changer
Sharp2-5X features an Automatic Tool Changer with a 12 tool capacity. Automatic tools sensors measure tool lengths and detects tool breakage automatically.
High Quality Spindle
The Sharp2-5X is ideal for milling zirconia, wax and PMMA with a precision and a maximum speed of 3,600mm/min and maximum spindle speed of 60,000rpm and a concentricity better than 2µm.
Intelligent Wet Milling
A coolant level sensor monitors coolant levels to avoid breakage of tools and materials caused by a decrease of coolant circulation.
Tool Life Cycle Management
Built-in Tool-life management system allows you to monitor the life of individual tools to maintain the high standards of quality and efficiency of your work.
Automatic Calibration
Automatic calibration will assist you with routine maintenance by aligning and adjusting tool settings to optimize the milling results.
Additional Holders
Three additional holders are available for zirconia, titanium, and glass ceramic.